The end of the chip for Silicon?
23rd September 2015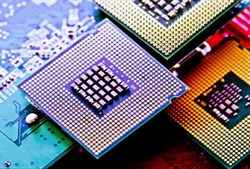 Silicon-based semiconducting integrated circuits have changed the world immeasurably over the past 50 years. Today the number of silicon chips in use far outweighs the number of humans currently alive.
According to SEMI, while silicon wafer shipments increased 11% during 2014 to 10,908 million square inches, revenues grew only 1% over the same period. This is despite chip manufacturers migrating to smaller process nodes that enable more transistors per unit of silicon.
While the majority of chips are still made from silicon wafers, there are increasing numbers of chips made using other materials, such as silicon carbide and III-V materials such as gallium arsenide and gallium nitride.
These materials all have very different physical properties that not only make them attractive for specific applications, but also add a degree of complexity to the manufacturing process.
That complexity spans the entire production process, from the creation of the wafers, the lithography of the integrated circuits and the chemical and mechanical planarization (CMP) of the final wafers.
To learn more about how CMP challenges can be overcome using automated systems, download our latest whitepaper.