With real time data tracking, the room for error is no longer in your hands
28th July 2015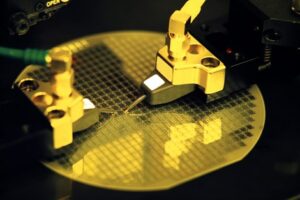 For many years, the wafer finishing process has been subject to an element of manual monitoring and control. With a typical wafer lapping and polishing cycle taking around an hour of conditioning to complete, the level of manual monitoring required is a drain on resource and efficiency.
With real time data tracking, these issues can be tackled in a way that will avoid errors occurring. Human error can be a cause of varying quality across the wafers, as the consistency and precision that a automated process can implement differs wildly from the level a human can ensure.
Real time data monitoring improves process understanding and facilitates more efficient process optimisation.. It also enables processes to be transferred from the development lab stage to pilot plant stage far more effectively. This drastically reduces the time needed for process re-optimisation during each stage of scale-up.
The Akribis-air has been developed from the ground up with real time data tracking features built in to ensure the ultimate finish and unrivalled batch-to-batch consistency.
To find out more about the benefits that real time data tracking can bring to your organisation, download the whitepaper here.