Diamonds are an engineers best friend
22nd September 2015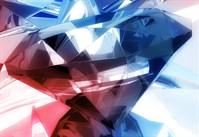 In recent years, diamond has emerged as not only a girl's best friend, but also as contender as an engineer's best friend – if the technical challenges of exploiting its remarkable properties can be overcome.
Due to the extraordinary properties of diamond, nanocrystalline diamond films have found application in Micro-Electro-Mechanical Systems (MEMS), Surface Acoustic Wave (SAW) devices, thermal management and tribological coatings.
These applications all require for diamond films to be grown on silicon wafers and herein lies a key challenge – diamond does not grow epitaxially on silicon, requiring wafers to be seeded with nanodiamond particles prior to growth. The competitive growth process that follows leads to a rough surface finish that can be detrimental to its key applications.
In order to overcome this surface roughness, a team of researchers from Cardiff University, Imperial College and the University of Oxford developed a new process to significantly reduce the surface roughness of the films.
Using Logitech's Tribo benchtop CMP instrument, the researchers developed a process that used a polyurethane/polyester polishing cloth and an alkaline colloidal silicon fluid.
The surface was characterised using Atomic Force Microscopy (AFM), Scanning Electron Microscopy (SEM) and X-ray Photoelectron spectroscopy to reveal the process had reduced the root mean square roughness from 18.3 nm to 1.7 nm over 25um2.
To learn more about the research, simply click here