Perfect Preparation of Geological Thin Sections
9th February 2017
Geological thin sections are prepared for a number of different tests such as porosity definition. Preparing  high quality geological thin sections can present a significant challenge, even to the most experienced petrographer, when using materials such as concrete. The combination of soft cement matrix and hard aggregate is difficult to work with; as many of the cement phases are water sensitive preventing the use of aqueous abrasive carried fluids.
Logitech have been designing and manufacturing precision systems for the production of geological thin sections for over 50 years, and we have perfected our processes and refined our systems to deliver optimum results across the wide range of materials used in the geological industry.
The different natures of various geological materials highlight various significant challenges in the process of thin section creation. The delicate nature of soil demands careful sample preparation to avoid damage or disintegration. Whereas coal faces its own challenges to process as it can be prone to distortion under heat stresses and opaque, thus requiring a section of <10μm to define the structure under the microscope.
Logitech have developed an intelligent range of equipment that come together as a system package for the production of geological thin sections. Along with Logitech's defined processes users can successfully produce high quality thin sections without fear of sample damage, with repeatable uniform thickness.
To learn more about our geological thin section packages or for more process knowledge on your application contact us today and one of our technical experts will be in touch.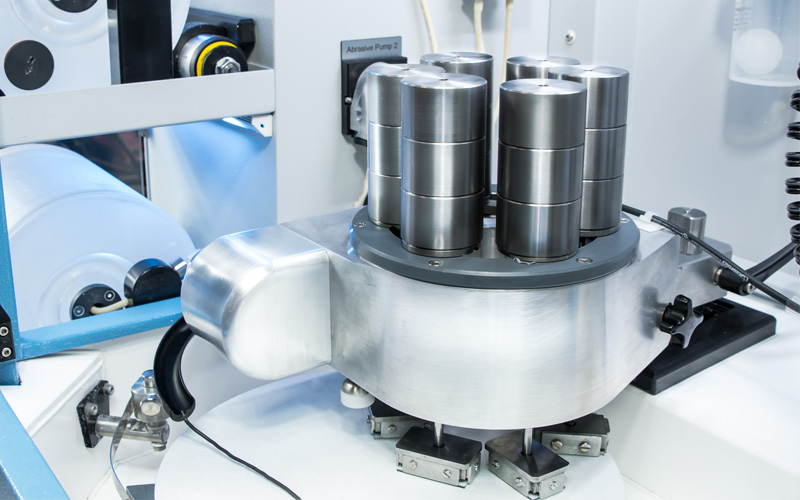 The Logitech WG6 polishing system comprises of a PM6 precision polishing machine and a WG6 polishing head. This polishing system is capable of producing the desired finished sample to a very high standard (high reflectivity, low relief, ultra-flat surfaces or minimal edge roll off)
This versatile system has the capacity to polish up to 6 samples at the one time with variable and carousel speed and rotational direction. The WG6 is the ideal system for rock polishing.