Chemical Mechanical Processing (CMP)
The best materials processing system solutions in the world
Chemical Mechanical Polishing is more commonly known as CMP Polishing.  This is the process where the top surface of a wafer is polished with a slurry containing an abrasive grit, suspended within reactive chemical agents.
The polishing action is partly mechanical and partly chemical. The mechanical element of the process applies downward pressure while the chemical reaction that takes place increases the material removal rate and this is usually tailored to suit the type of material being processed.
Chemical Mechanical Polishing Applications
Logitech's chemical mechanical polishing systems are highly versatile and are designed for use in polishing applications where geometric precision and surface quality are of paramount importance.
All our equipment can be tailored by using different carrier heads, polishing templates, wet bench modules or end point detection allowing you to customise your system to your needs.
Logitech LTD have developed a number of dedicated CMP tools, culminating in the Tribo and Orbis units.
These machines manipulate the wafer shape and have high levels of control over parameters such as download backpressure, solution flow and rotational speed.
The highest levels of surface finish and flatness on samples are possible with these systems.
Specific application areas where our CMP systems can be used include:
Silicon Wafer CMP
Global CMP of III-V Compound Semiconductors
Global CMP of Silicon Nitride, Oxides & Polymer Layers
Global CMP of brittle, friable IR material substrates
Global CMP of Sapphire, Gallium Nitride & Silicon Carbide substrates
Reclamation of EPI ready substrates
Final stage thinning of SOS and SOI wafers to below 20 microns
Device delayering for reverse engineering of applications
For more information on our CMP machines please fill in your details in the form and one of our technical experts will get in touch.
Call me back
To speak to one of our technical experts fill this form out and we will get back to you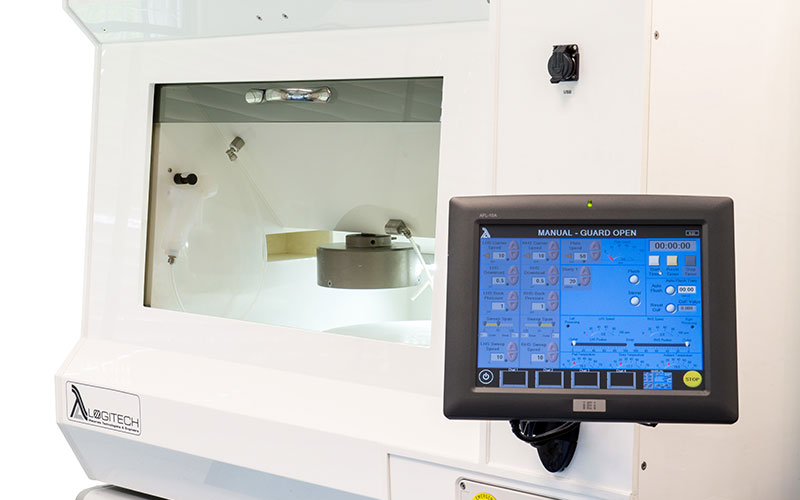 CMP-Tribo Benchtop CMP System
Logitech's Tribo system offers nanometer level material removal capabilities on either individual die or wafers up to 100mm/4″ diameter. View the video to see it in action.
Key Features
Ideal for Tribological and Chemical Mechanical Polishing Applications

Precision processing of wafers up to 100mm (4″)

In-situ pad conditioner optimises pad condition

Benchtop solution