Automating the challenge of processing fragile wafers
14th July 2015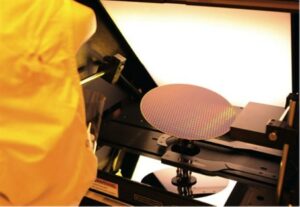 Gallium arsenide (GaAs) has become the substrate material of choice for many electronic devices used in high frequency and optoelectronic applications. However, the processing of GaAs wafers is more difficult than many other substrate materials as it is softer and more fragile.
When processing GaAs wafers, control of the lapping process / plate shape is of paramount importance due to the softness and fragility of the crystal. The lapping plate must be controlled and maintained
 at a specific shape depending on the diameter 
of the wafer.
The shape of the lapping plate deployed has a direct influence on the wafer shape before it enters the polishing stage, where the edge will naturally polish faster than the centre. During lapping, the ultimate aim is to manipulate the wafer shape to an extent that after polishing the wafer is within the flatness specification.
Although manual wafer lapping/polishing tools can meet general manufacturing requirements, the monitoring and control of the plate shape can be laborious. Around 30-60 minutes of conditioning is required for every wafer cycle – and time quickly mounts up when multiple wafers are processed. In an industry that demands high productivity, this is clearly unacceptable.
The only alternative is to seek out a solution that can take care of this function automatically. Tools such as the Akribis-Air from Logitech are able to offer in-situ plate flatness control using an integrated monitor that tracks plate flatness during processing. Software then makes the necessary arm position adjustment to maintain or change plate flatness accordingly until the target shape is attained.
Importantly, the control and maintenance of the plate shape does not require downtime for the plate conditioning cycle, as is the case with manual tools.
To learn more about how automated lapping and polishing systems can aid increase the reliability and efficiency of GaAs processing, download our whitepaper.